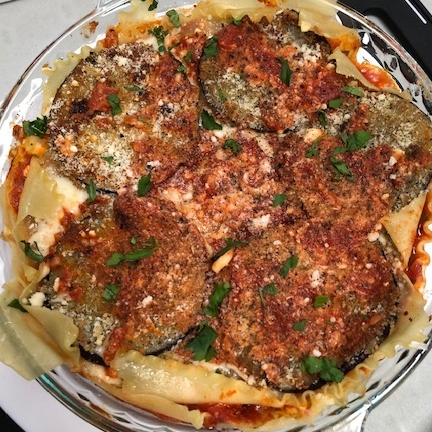 Ingredients:
Fried Breaded Eggplant (eggs, seasoned bread crumbs)
No-Boil Lasagna Noodles
Zucchini
Spinach
Mozzarella Cheese
Ricotta Cheese with chopped Parsley
Parmesan Cheese
Parsley
Salt and Pepper
Instructions:
Slice eggplant, salt and pat dry. Dip in beaten egg, then dip in bread crumbs, Parmesan cheese and Parsley mixture, then pan fry in Olive oil on both sides.
Layer Zucchini (sliced lengthwise), Spinach, Eggplant and noodles with Ricotta, Parmesan and Parsley mixture, Mozzarella cheese and Tomato sauce. Starting with tomato sauce and alternating veggies and cheese.
Bake at 350 degrees for 40 minutes.