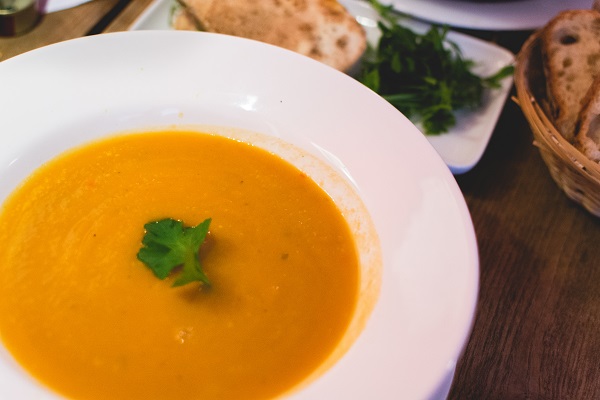 Ingredients:
1 butternut squash, about 2 pounds

1 can coconut milk

3 cups of water

1 Tablespoon butter

1 medium onion, chopped

3 cloves garlic, minced

1 green bell pepper, stems and seeds removed, chopped

1 teaspoon ground cumin

1/2 teaspoon ground chili powder

1/4 teaspoon red pepper flakes

1/2 teaspoon cayenne pepper

½ teaspoon pepper

½ teaspoon pepper

a pinch of salt, a few drops of Ume Plum Vinegar and fresh herbs to taste
Instructions
To prepare the squash, peel off the tough skin with a potato peeler, and trim the stem and very bottom of the squash. Carefully cut the squash in half right where the round bottom meets the skinnier top. Place the flat edge on the table to stabilize each half of the squash, then cut each piece in half. Scoop out the seeds and goop from the circular half.

Next, cut the squash into ½ inch slices, and then cut each side into cubes.

Melt the butter in a large pot over medium heat. Add the onion, bell pepper, and garlic, and saute until the onion is translucent, about 2 minutes.

Add the cubed squash, cumin, red pepper flakes, chili powder, cayenne, salt, and pepper, and stir it all together. Put a lid on the pot and cook for 2 minutes more. Add the coconut milk and 3 cups of water and stir.

Bring the soup to a boil, then turn down the heat to low and let it cook until the squash is tender, about 30 minutes. Taste the soup and add more salt and pepper if needed.

If you have an immersion blender, you can puree the soup right in the pot. If you have a stand blender, let the soup cool a bit, and then transfer it into the blender and puree until smooth. Taste it again and see if it needs more salt and pepper.

Serve it with a dollop of sour cream and enjoy!
Recipe created by Hope Kitchen participants!