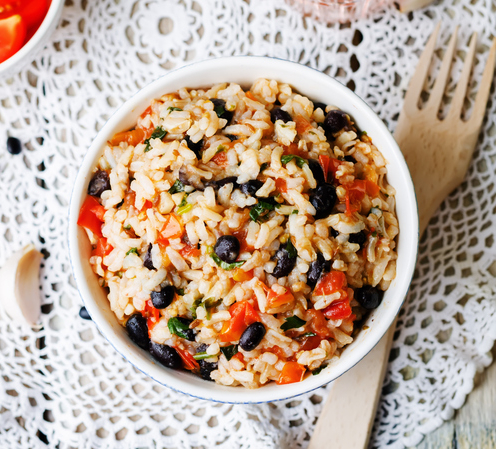 Ingredients
2 cloves garlic
1 bunch collard greens
1 large yellow onion
2 teaspoon fresh herbs or 1 teaspoon dried (examples: oregano, thyme, cilantro)
2 tablespoons vegetable oil
½ cup stock or water
1 can crushed or diced tomatoes
1 teaspoon salt, or more to taste
3 cups cooked rice (about 1½ cups uncooked)
2 cups cooked beans
1 lime
Salt and pepper, to taste

Instructions

Before starting, add 1.5 cups uncooked rice to a pot with 3 cups of water. Bring water to a boil then cover and cook until water has evaporated, about 15 minutes.
1. Wash your hands with soap and water. Thoroughly rinse all vegetables and fresh herbs.
2. Chop garlic cloves. Chop the greens into bite-sized pieces. Dice the onion. Tear the leaves off of fresh herbs.
3. Heat the saucepan on medium-high heat for 1 minute and add 1 tablespoon oil, half the garlic, and the chopped greens. Sauté until tender, about 4 minutes. Remove the greens from the pan and set aside.
4. In the same pan, heat the remaining 1 tablespoon of oil. Add the chopped onion and the remaining garlic and sauté until brown, stirring occasionally with a spoon or spatula. Add the stock a couple tablespoons at a time. Continue to cook to reduce the liquid until the onions are soft and caramelized, about 10 to 15 minutes.
5. Add the can of tomatoes and its juices to the pan. Heat the mixture to a simmer, with small bubbles coming up to the surface gently. Allow to cook at this heat for 8 to 10 minutes.
6. Add cooked greens, herbs, and 1 teaspoon of salt. Continue to simmer, stirring occasionally for 3 to 5 minutes.
7. Fold the cooked rice and beans into the pan and heat through.
8. Garnish with a squeeze of lime juice and extra herbs, if desired. Add salt and pepper to taste.