Black Bean and Corn Salad
Serves: 6- 8 people
Ingredients: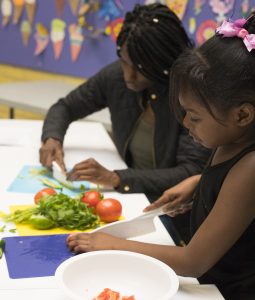 2 15 ounce cans of black beans
1 bag of frozen corn
2 red bell peppers, diced
2 cloves of garlic, minced
1 small shallot (optional)
2 tsp of salt
¼ tsp of chili powder
¼ cup of olive oil
1 tsp lime zest (zest limes before you juice them)
juice of 1 lime
¼ cup of cilantro or parsley
2 avocados, chopped
Directions:
Mix  all ingredients except for the avocados in a large bowl. Mix well
Add avocados and mix softly, so you do not mash the avocados.
Tips:
– You can use fresh, frozen or canned corn and beans
– Eat this salad cold or at room temperature
– You can add meat to this dish, eat it by itself, or as a dip with some tortilla chips
– Don't have lettuce? Use some cooked rice and mix well!
Guacamole/Avocado Dip Recipe
Serves: 6
Ingredients
5 avocados (very soft)
1 lemon, squeezed
½ tsp of salt
½ cup diced onion
3 tbsp fresh parsley
2 tomatoes, diced into small pieces
1 small carrot diced
1 tsp minced garlic or 1 tsp of garlic powder
optional: 1 jalapeño (chopped)
Directions
Take out seed from avocado and smash in same bowl
In a bowl, squeeze lemon juice
Add salt, onion, parsley, tomatoes, and garlic
Mix well
Add jalapeño if you like some spice
Curry Tuna Salad Recipe
Serves: 8
Ingredients
4 ripe avocados (peeled, pitted, and diced) or mayonnaise
4 mangoes or 1 bag of frozen mangoes
salt and pepper to taste
1 tsp curry powder
2 tbsp onions minced
1 ½  cup red grapes halved
2  stalks of celery
2 tbsp lime juice
1 cup of cooked canned tuna
optional: 3 tbsp of raisins
Directions
Cut avocado, remove the pit, mash into a large bowl. Add salt, pepper, curry and mix again.
Add grapes, celery, onions, lime juice and mangoes and mix well.
Let it sit for at least 5 minutes. If you are using fresh mangoes, refrigerate for 20 minutes.
Tips
*Using avocado instead of mayonnaise cuts out the bad fat from this meal
*Use chicken to have a great chicken salad
*You can use apples, cranberries, and even nuts in this recipe.
*If you do not have mayonnaise or avocado use 1 cup of Greek yogurt and 1 tsp Dijon mustard
Asia

n Green Sal

ad
Ingredients
5 ounce mix of greens such as baby spinach or chopped cucumbers
¼ cup of rice vinegar
1 tbsp of soy sauce
1 tsp of sugar
2 tsp of grated ginger
1 tsp of toasted sesame seed oil
1 tsp of sesame seeds
Directions
Put greens in a bowl and set aside
Stir remaining ingredients in a small bowl. Toss the dressing with greens and serve.