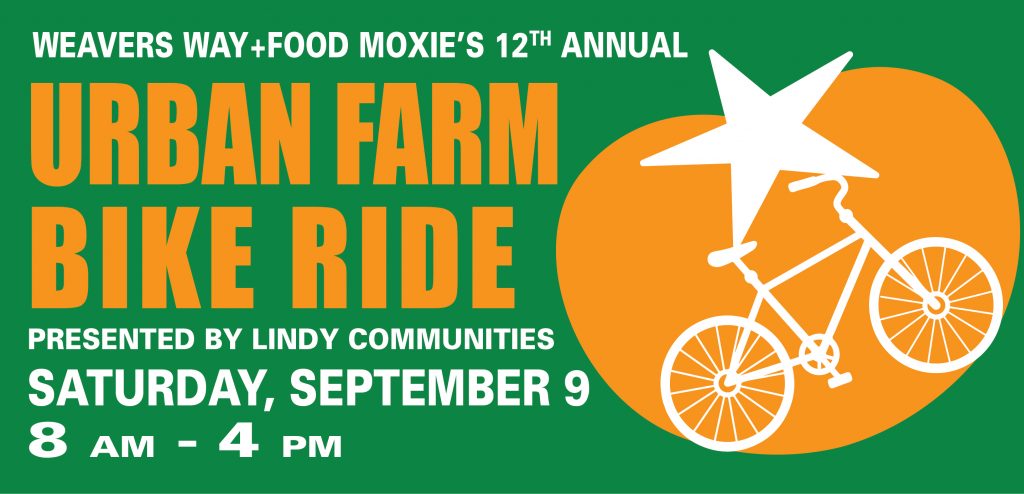 Join us as we celebrate Philadelphia's thriving farm ecosystem!
For the 12th year in a row, farms throughout Philadelphia are opening their gates for cyclists on Saturday, September 9th as they pedal through the city in celebration of urban agriculture as part of the Urban Farm Bike Ride. Hosted by Weavers Way Co-op and presented by Lindy Communities, all funds raised through the UFBR go to support our farm and nutrition education programs!
There are two routes riders can choose from — one clocks in at 24.2 miles and the other at 23.9 miles — and each winds through Philadelphia's streets, stopping to explore urban agricultural sites and chat with some of the farmers who help maintain the city's vibrant farm landscape.  We begin and end at Philadelphia Brewing Company (PBC). We start the day off right with healthy trail mix and iced coffee supplied by Equal Exchange, and end it with a beer and pizza party, thanks to PBC and local pizza shops!
Ticket includes tour, t-shirt, snacks/water along the route, and after party beer and pizza!
SHORT RIDE Total distance: 23.9 miles
1. Philadelphia Brewing Co.
2. Common Market & Mycopolitan
3. Metropolis Farm
4. Bartram Farm
5. Philadelphia Brewing Co.
LONG RIDE Total distance: 24.2 miles
1. Philadelphia Brewing Co.
2. Germantown Kitchen Garden
3. Stenton Family Manor
4. Henry Got Crops – Saul Farm & Orchard
5. FNC Community Learning Farm
6. Philadelphia Brewing Co.